Complete Gutter Systems
Explore Our Comprehensive Gutter Systems in Nashville, TN
The Gutterman of TN is your one-stop-shop for all things gutters. Whether your current gutters are giving you grief, or you're planning a new build or renovation, The Gutterman of TN is here to help. We assess your unique home and lot conditions, and provide you with the best options for gutter systems.
Experience Superior Protection with the Advantage Gutter System
Here at Gutterman of TN, our mission is to provide a unique and comprehensive approach to gutter and water protection. Each home gets our full attention – we evaluate every corner of your property to design a gutter system that's just right for you.
What sets The Gutterman of TN apart?
Our system isn't just about gutters. We carefully inspect your roofing, identify any drainage issues, check for rotten fascia or soffit, and spot any potential entry points for unwelcome critters or moisture. We understand that every home is unique, so we ditch the "one-size-fits-all" approach and customize our solution to fit your needs.
We'll suggest a combination of systems that will keep your home dry and safe. Need an underground drainage solution? You can trust our expert advice! Rest assured, we only use top-tier products and materials to guarantee the most effective and lasting results.
Our Nashville Gutter Guards
Your gutters play a crucial role in protecting your home from water damage. However, they can become clogged with leaves, debris, and other nuisances, leading to costly maintenance and potential harm. At Gutterman of TN, we offer top-tier gutter guard installation services to keep your gutters clear and your home safe. 
Unmatched Protection:

Our gutter guards act as a shield, preventing leaves, twigs, and debris from entering your gutters. This ensures uninterrupted water flow and reduces the risk of clogs. 
Reduced Maintenance:

Say goodbye to the hassle of frequent gutter cleaning. Our gutter guards reduce the need for maintenance, saving you time and money.
Increased Longevity:

By preventing clogs and blockages, our gutter guards extend the lifespan of your gutters, protecting your investment. 
Custom Solutions:

We offer a variety of gutter guard styles and materials, allowing you to choose the perfect fit for your home's design and environment.
Expert Installation:

Our experience team ensures a precise and secure installation, ensuring that your gutter guards will perform effectively for years to come. 
Effective Year-Round:

Gutter guards not only keep debris out but also prevent ice dams during winter, safeguarding your home from seasonal damage. 
Introducing ArmorGuard Gutter Guards
A Strong and Budget-Friendly Option in Nashville
Do you find yourself in a property that's generally free from tree clutter, but your gutters still demand frequent cleanings and maintenance? You might not have to deal with substantial gutter debris like those residing in heavily wooded regions, but anyone would welcome the chance to avoid regular gutter cleaning chores or costs!
If you're regularly clearing out your gutters to prevent water-related issues, ArmorGuard gutter guards could be your solution.
ArmorGuard gutter guards are high-quality, .024 gauge aluminum guards. They offer a more cost-effective alternative to SafeGuard gutter guards, and rest assured, they won't blow off or sag into your gutter. The design of their tear drops holes ensures optimal water flow, while a 3/8 inch lip successfully tackles overflow problems.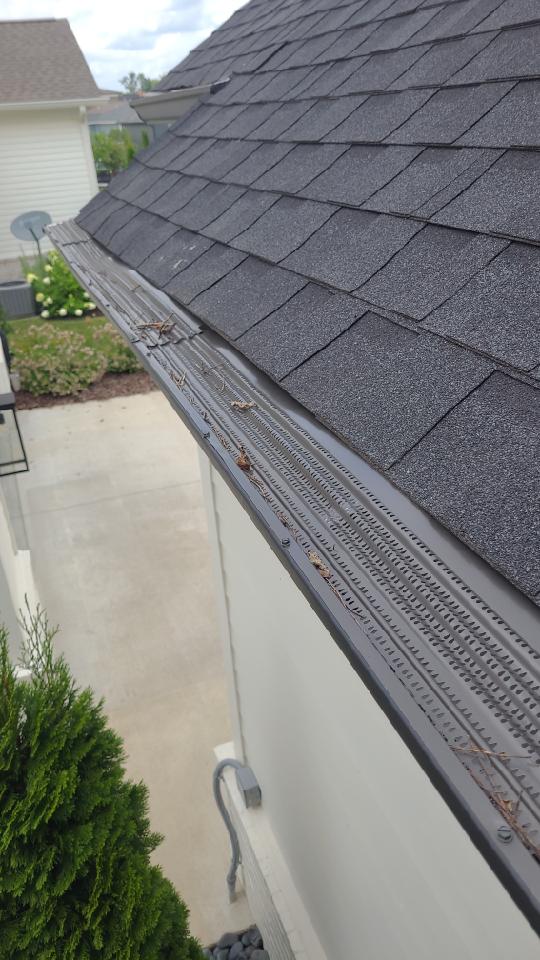 Why You'll Love ArmorGuard Gutter Guards
ArmorGuard gutter guards offer a variety of benefits:
They're manufactured right here in the USA.
They keep substantial debris out of your gutters.
They're exceptionally sturdy.
They have a low-profile design.
They eliminate the need for you to clean your gutters ever again.
Curious about our other products? If your home is nestled among woods, our SafeGuard Gutter Guards could be of interest. We even have a Frequently Asked Questions section to help answer your queries!
SafeGuard Gutter Guards in Nashville, TN
Enhance the performance of your existing gutters
Here at The Gutterman of Tennessee, we pride ourselves on our expertise in all things related to gutters. We understand that every home is unique, and therefore, so are its needs. That's why we offer a range of products and solutions, tailored specifically for your property. Curious about how the SafeGuard gutter guard system could benefit your home? Get in touch with us!
If your gutters are still in fine shape and you're considering a guard to keep out unwanted debris, the SafeGuard gutter guard system might be the perfect fit. These guards consist of an aluminum frame and stainless steel micromesh, which allow small debris like pollen and roof grit to flow smoothly through the gutters.
The SafeGuard gutter system will allow nothing but water to flow through your gutters. Proven to keep everything from leaves to wet pine needles from accumulating in your gutter and causing costly foundation repairs, the SafeGuard system is a lifetime investment for your home. Roof grit and debris can wreak havoc on your underground drains, but you can rest assured that SafeGuard gutter system will prevent this from ever happening. With our lifetime maintenance warranty, you can have piece of mind that if debris does ever build up, we're just a phone call away.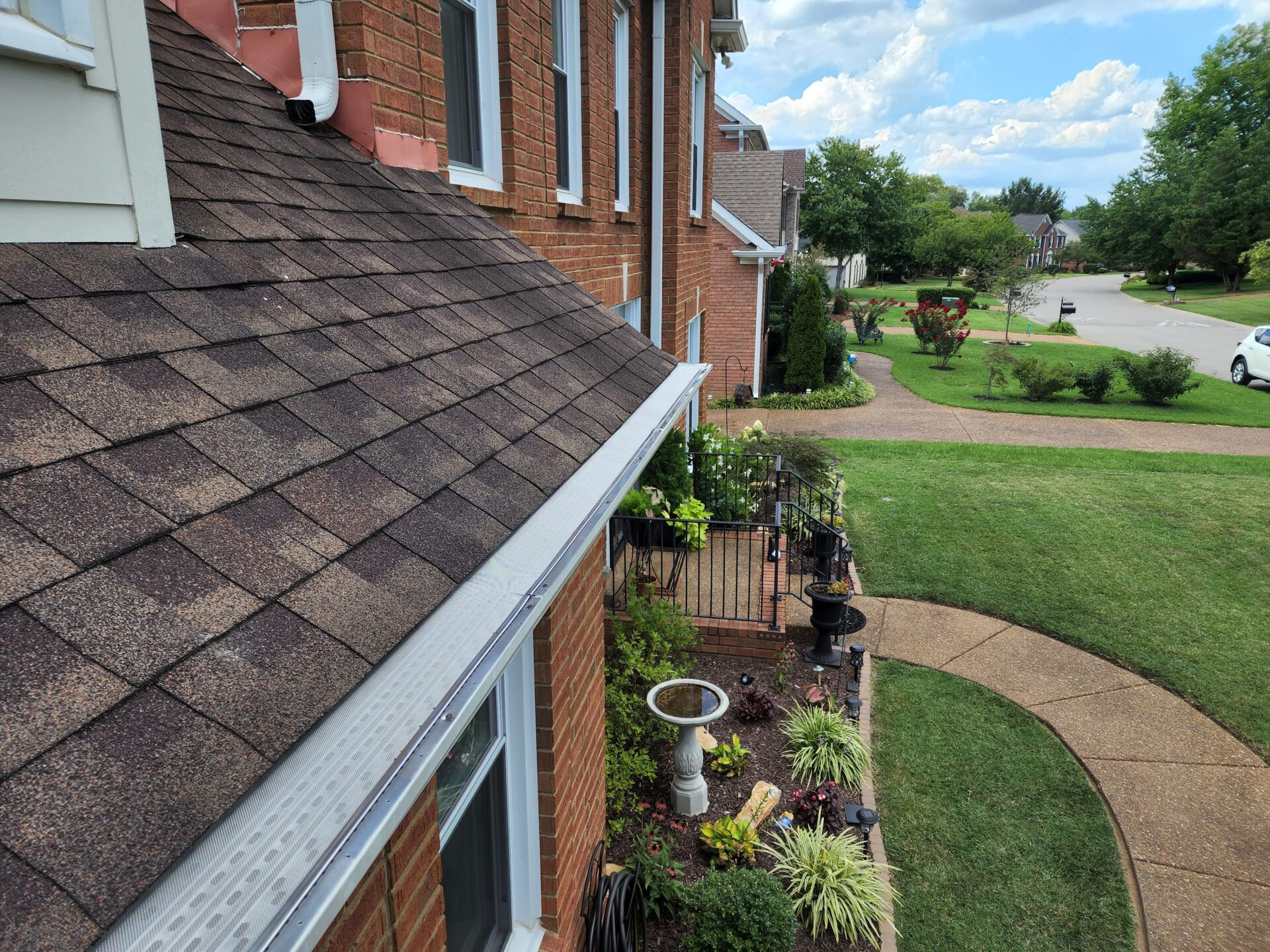 Why Consider SafeGuard Gutter Gurards?
The SafeGuard gutter guard system is a popular option for the following reasons:
They're robust, low-profile, and can be added to any existing gutter system without the need for removal or fitment under shingles.
SafeGuard guards won't clog or collapse and are designed to fit securely around end caps.
The stainless steel micromesh is designed and sized optimally to enhance gutter efficiency and prevent clogging.
Unlike vinyl-framed gutter guards, which can warp in sunlight, SafeGuard's aluminum frame won't rust or warp.
SafeGuard offers strong, durable, and affordable products with a lifetime maintenance warranty!
The low-profile design of SafeGuard gutter guards won't interfere with your home's aesthetic appeal.
Protect Your Home with Expert Gutter Installation Services in Nashville, TN
When it comes to safeguarding your home against water damage, a high-quality gutter system is your first line of defense. At Gutterman of TN, we specialize in professional gutter installation to ensure your home remains protected from the elements. Our expert team provides seamless gutter solutions tailored to your specific needs. 
Why Choose Our Gutter Installation Services? 
Seamless Gutter Expertise:

Our skilled technicians are experienced in seamless gutter installation, which not only enhances the aesthetics of your home but also minimizes the risk of leaks and clogs.

Custom Solutions:

We understand that every home is unique. Our team assesses your property and provides custom gutter installation solutions to fit your exact requirements. 

Quality Materials:

We use high-quality materials such as aluminum, copper, and steel to create durable gutters that stand the test of time and resist corrosion. 

Efficient Downspouts:

Proper drainage is crucial. Our downspout installation ensures rainwater is effectively directed away from your home's foundation, preventing potential structural damage. 
What does the installation process involve?
When you choose The Gutterman of Tennessee to install your SafeGuard gutter guards, you can expect meticulous and expert service. We first "recondition" your gutters, which involves cleaning them, checking their pitch, recaulking them, and ensuring they are securely fastened to your home. After evaluating your system and confirming your gutters are functioning as efficiently as possible, we commence the process of attaching the guards to your gutters. When we leave your home, you can be sure your gutters are ready to efficiently handle rainwater.
Interested in learning more about SafeGuard gutter guards? Don't hesitate to give us a call. We're eager to evaluate your current system and help you decide if SafeGuard is the right solution for your home.
And remember, The Gutterman of Tennessee isn't only about gutters. We can also help you with all of your roofing needs!
Yes. SafeGuard covers will work with your existing gutters. We can also install new seamless SafeGuard gutters and covers. It simply depends on your needs and preferences.
Yes. It is easy to do a simple fascia board build-out that will allow installation of SafeGuard. The Gutterman can help you determine how SafeGuard covers could be modified to work on your home if the system is right for you.
SafeGuard is designed to perform well in all weather conditions, even in Nashville & Middle Tennessee where we sometimes have long periods of freezing temperatures. Due to the system's unique design, ice will not form inside the gutters—only on the top. This protects the gutters from the harsh effect of freezing and thawing ice, a process that pries the gutters off of your home over time. In addition, SafeGuard's comprehensive draining system helps eliminate wind-blown water from backing up and freezing under your roof's edge. This makes the potential for ice damming much lower than with other gutter guard systems.
Yes. SafeGuard is available in a variety of colors. However, one of the reasons homeowners love this product is that it is low-profile and will not be seen from the street. The Gutterman of Tennessee can provide samples of SafeGuard color choices upon request
When you understand how the SafeGuard system works, we think you'll agree it is one of the best Nashville gutter guard systems available today.
Find Your Perfect Match with Our Specialty Gutters
At The Gutterman of Tennessee, we understand that your home is as unique as you are. That's why we don't do one-size-fits-all solutions. We're excited to offer a range of specialty gutters for our Middle Tennessee customers, blending function and aesthetic perfectly. Here are some of the options you can consider: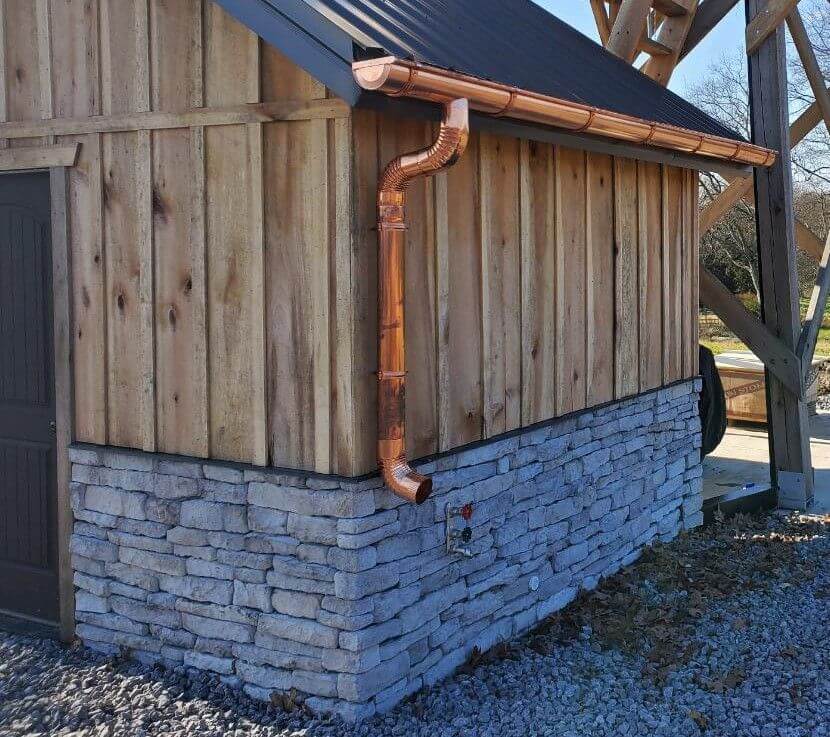 Copper Gutters
Love the idea of a gutter system that evolves in beauty with each rain? Copper might just be your best pick. With high durability and a patina that develops over time, these gutters promise a new visual treat every season.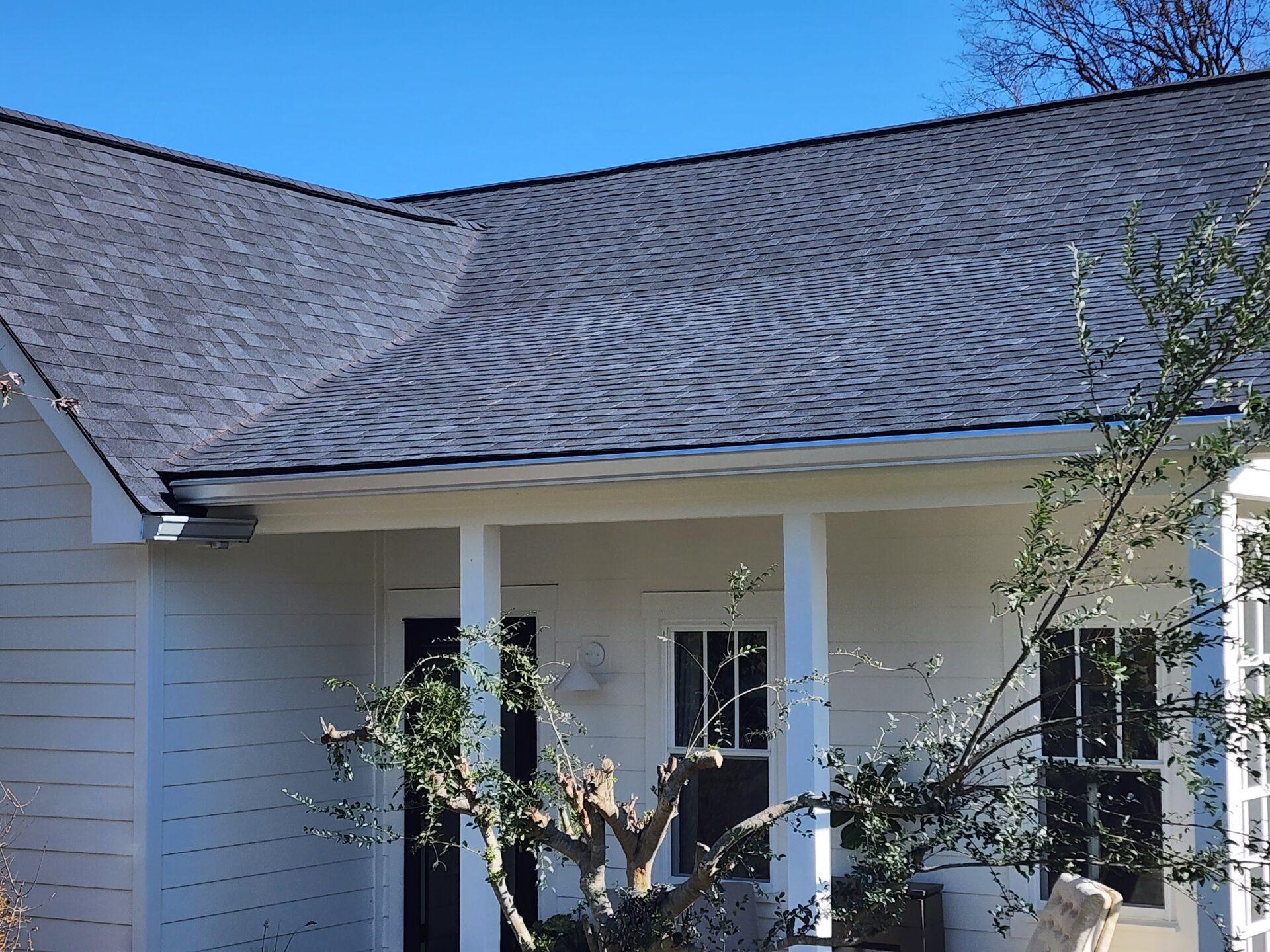 Galvalume Gutters
Seeking durability similar to copper but at a fraction of the cost? Galvalume gutters could be your go-to. Highly affordable and durable when maintained well, they offer a gun-metal appearance thanks to their aluminum/zinc coating that remains constant over time. This option ensures your gutter doesn't steal the spotlight from your home's aesthetic.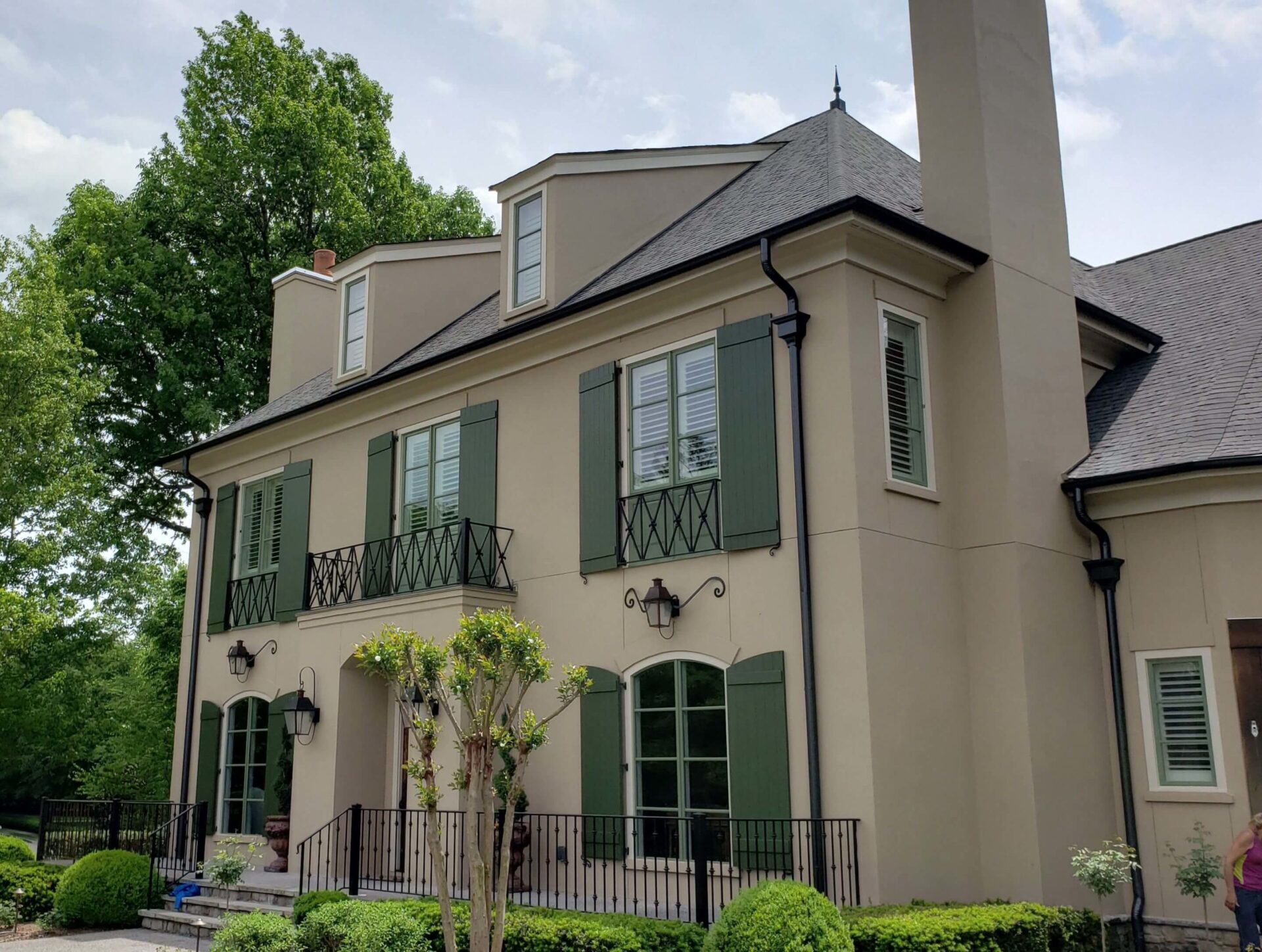 Classic 6″ Half Round Gutters
If traditional charm and color variety is what you're after, these original gutters might just be what you need. Ideal for Victorian-style homes, they offer a classic look. Just remember that they aren't suited to handle large quantities of water, so they may not be the right fit for certain parts of your home.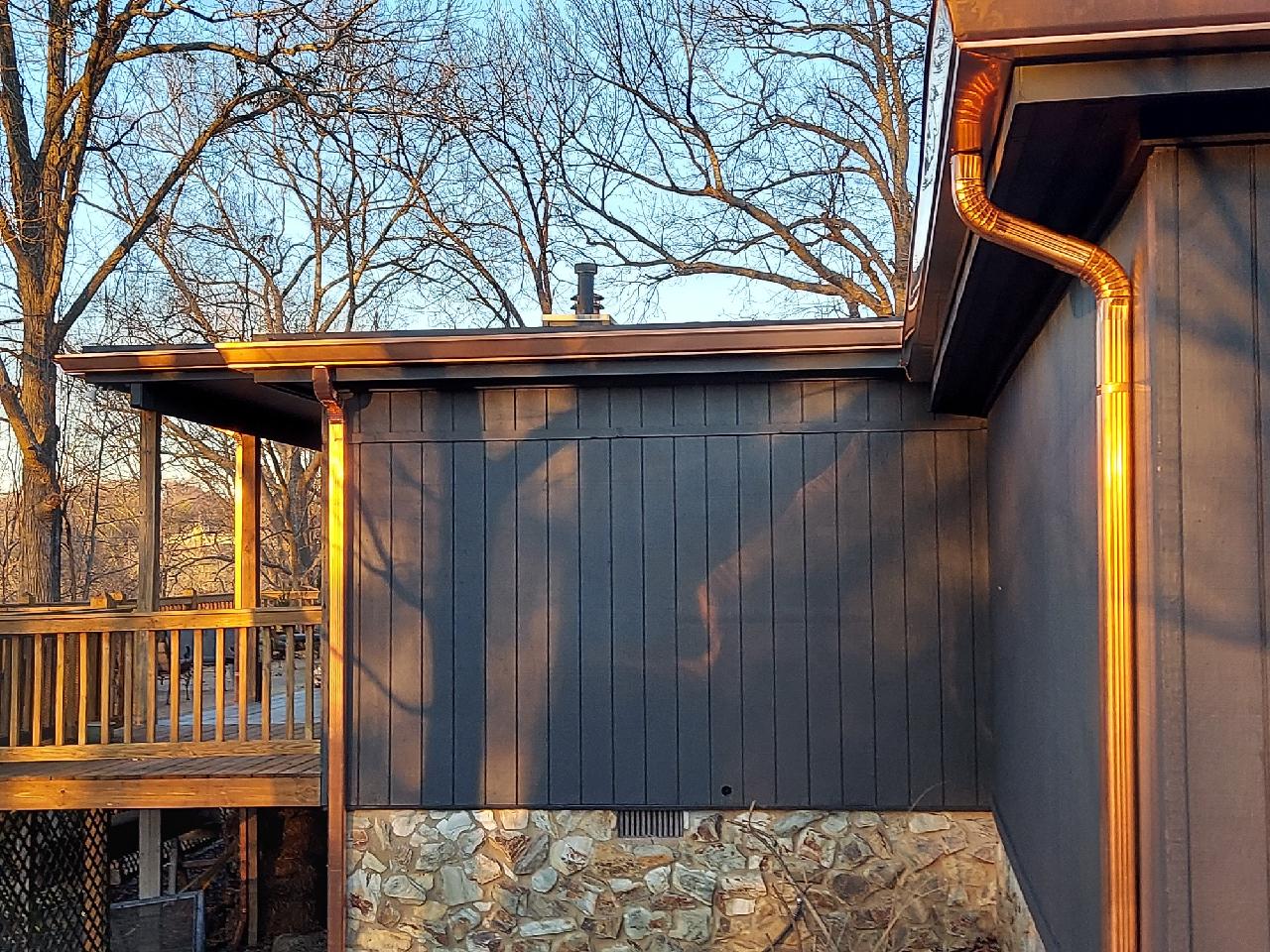 7″ Seamless Gutters
Where there are seams, there can be leaks. Seamless gutters offer a leak-free solution that helps protect your home and yard from erosion or damage. These 7" seamless gutters are especially efficient for parts of your home that face heavy rainfall as they can handle more water than their 6" counterparts.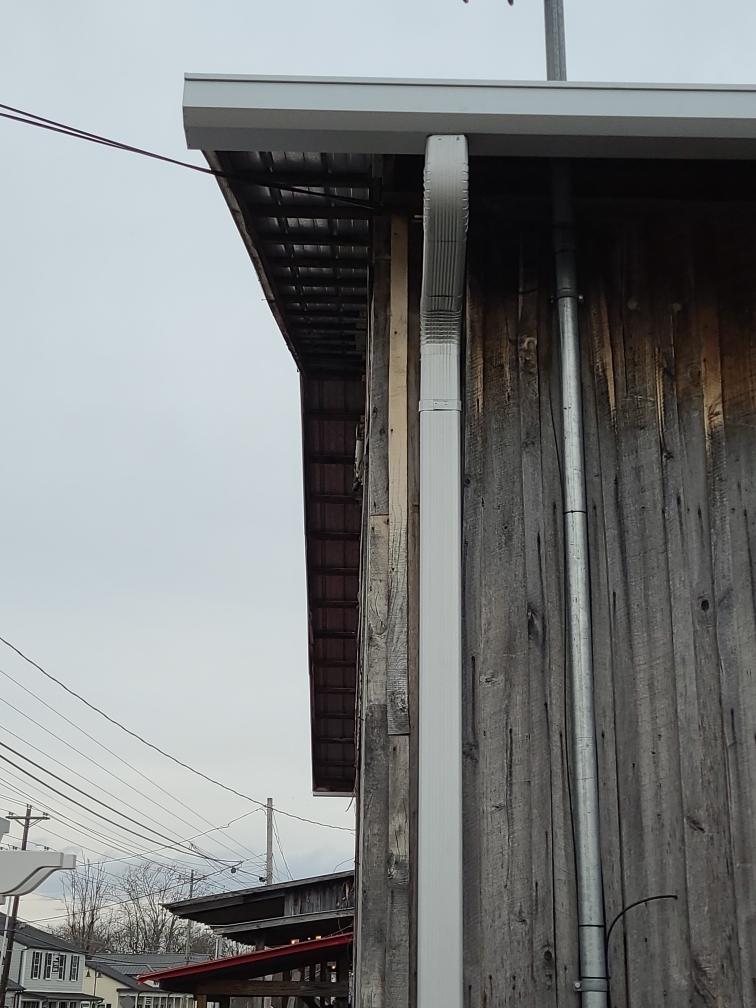 7″ Seamless Box Gutters
For those with a modern home aesthetic, these gutters, commonly found on commercial buildings, offer a boxier design that we think looks great on contemporary homes!
Let's Talk About Your Nashville Gutter Replacement
If your gutters aren't doing their job, seem a bit worse for wear, or simply aren't up to handling the Middle TN weather, let's chat. You can reach us at (615) 678-7454. Our mission is to ensure your home is well protected – from your landscaping and soffits to your windows, doors, fascia boards, and foundation. We'll install a gutter system that not only does its job efficiently but also blends in seamlessly with your home's aesthetic.
Say goodbye to the stress of potential foundation and property damage. Start a conversation with us at The Gutterman of TN about updating your old, warped gutters today. Our focus on comprehensive solutions, hands-on problem-solving, and high-quality products means you can rest easy knowing your gutter issues are in the past. Don't hesitate to call us today!
Just a reminder – we offer more than standard gutters. We have a range of complete gutter systems designed to meet your home's unique needs. Plus, we're the exclusive provider of the Advantage Gutter & Roof System here at Gutterman of TN.